Static Range Nitrogen Management in Northwest U.S. Sugarbeet Production
1USDA-ARS, 2Amalgamated Sugar Company
Justification
Nitrogen (N) management is important in sugarbeet production. This paper presents data to support additional research to evaluate a new N management approach in the Northwest U.S. Evaluation of historic data suggest that static N management (fixed range of N supply independent of yields) may have advantages compared to yield goal-based N management in the Northwest U.S.
Procedures
To evaluate the potential use of static N management, the following information was gathered:
Average sugarbeet root yields from 1970 to 2016 across the Northwest U.S. were obtained from the USDA-National Agricultural Statistics Service (www.nass.usda.gov).
Research-based sugarbeet Nr factors were obtained from published recommendations and research data from Amalgamated Sugar Co., University of Idaho, and USDA-ARS (Amalgamated Sugar Company, 1977; Stark et al., 1997; Tarkalson et al., 2016).
To evaluate the relationships between N supply and optimizing sugarbeet root yield in the Northwest U.S., the following analysis was performed:
The research based Nr factors were multiplied by the average root yields during the time the research was conducted to determine the time-specific optimum N supplies. These time-specific optimum N supplies were compared to scenarios where Nr was not adjusted over time as root yields increased.
Yield Goal Based N Management of Sugarbeet
The premise of the yield goal based N management is based on a N amount applied per ton of sugarbeet root (Nr = lbs N/ton beet)
Nr factors were determined based on research studies conducted periodically. New Nr values were published in 1977, 1997, and 2011.
New research data was summarized in 2021 from studies in 2018 and 2019. This data will be presented later.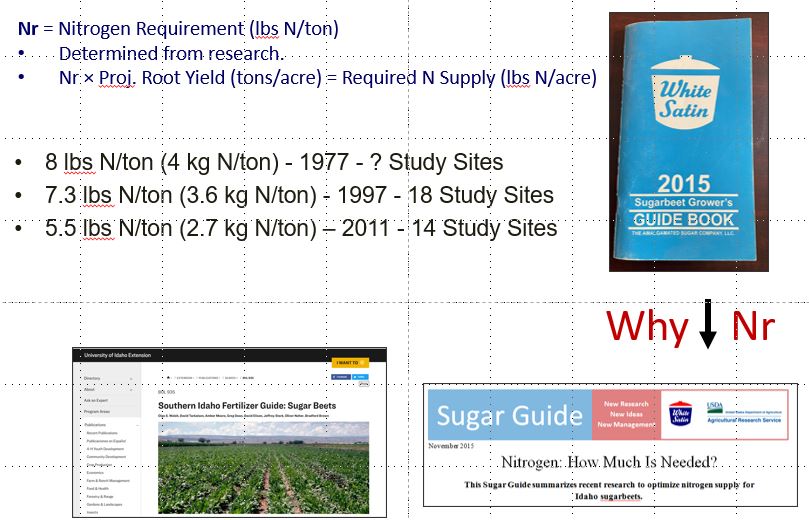 Graphical Comparison of Root Yield, Nr, and N Supply Needed To Maximize Sucrose Yield Over Time
--Average annual root yields in the Amalgamated Sugar Co. growing area (Idaho, Oregon, Washington) (red circles)
--Publihed Nr factors (blue circles): A = 1977 published Nr - University of Idaho and Amalgamated Sugar Co.; B = 1997 published Nr - University of Idaho; C = 2011 published Nr - Algamated Sugar Co. and USDA-ARS; D = 2021 determined Nr - Algamated Sugar Co. and USDA-ARS.
--N supply (soil available N top 3ft in spring + fertilizer N) needed to maximize sucrose yield (black squares). Calculated as: Research Nr * Root Yield.
The average N supplies needed to maximize sucrose yield were within a range of 13 lbs N/acre. This indicates that as yields increase the needed N supply is similar from 1977 to 2021.
Greater N supplies are not needed as yields increase.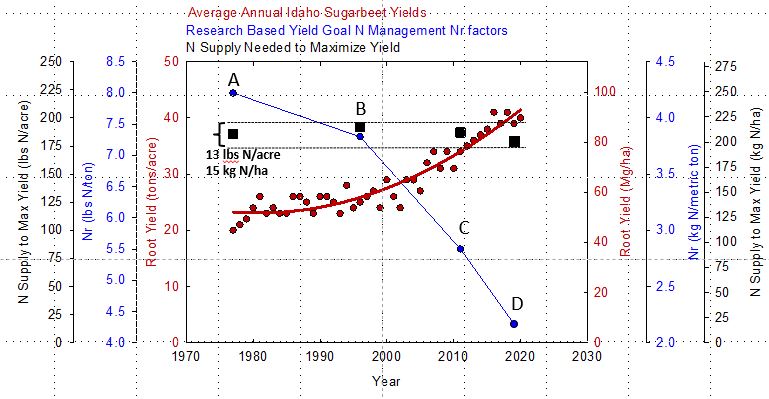 Recommended N Supplies Over Time Using Latest Nr Factor
Graph shows the recommended N supplies using the most current published Nr factors.
Recommended N supplies increase over time with a given Nr factor because yields are increasing every year.
New research (new Nr) recalibrated the actual needed supplies.
The fast-increasing yields over time leads to excessive recommended N.
To use a yield goal-based approach over time, continued research each year will be needed to adjust the Nr factor. This would be impractical based on research-based constraints.
20 site years representing all research sites that make up published recommendations in 2011 (2005-2010) and 2021 (2018-2019).
The bars represent the amount of excess N fertilizer was applied using a Nr based approach compared to what was needed to maximize yield.
All but 2 sites had excess N supplied.