Developing a Soil Health Assessment Framework for Specialty Crop Systems and Soils of Washington State
1Washington State University, 2Washington State Department of Agriculture
1) BACKGROUND
There has been quite a lot of research looking at farm management practices and soil health impacts in agronomic crops.

However, not a lot has been done in specialty crops.

Most of the US's soil health scoring curves have been developed for agronomic crops in the Midwest and the Eastern United States. The figure below shows the NRCS defined Major Land resources Areas where scoring functions for physical and biological indicators have been developed (Moebius-Klune, 2016, CASH-Cornell Framework).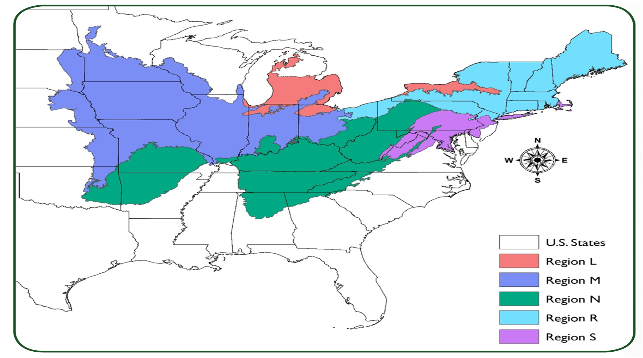 Washington State Department of Agriculture, in collaboration with Washington State University, is working on establishing a baseline for region-specific soil health indicators within specialty crops (hops, onions, potatoes, pulses, sweet corn, tree fruits, and wine grapes).
2) OBJECTIVES
Establish a benchmark soil health scoring framework.
Evaluate farm management practices on soil health.
Investigate the relationship between parasitic nematodes and soil health in potato fields.
3) METHODS
FIELD SELECTIONS
In 2020, 80 sites consisting of 18 commercial farms growing onions, potatoes, sweet corn, and wine grapes in the Columbia Basin and the Yakima Valley were recruited.
​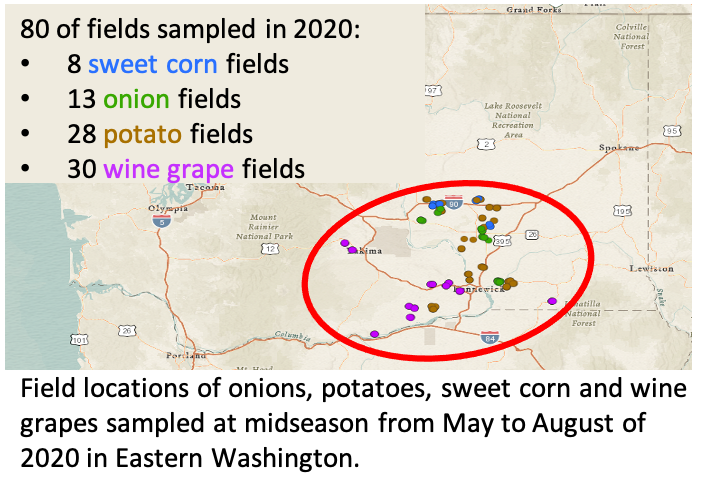 The farmers were made to identify "good" and "challenging" field pairs of same or similar soil map units based on crop yield, disease pressure, soil challenges, and experience.
Soil maps were used to delineate potential areas.

Paired fields were selected based on similar soil map units.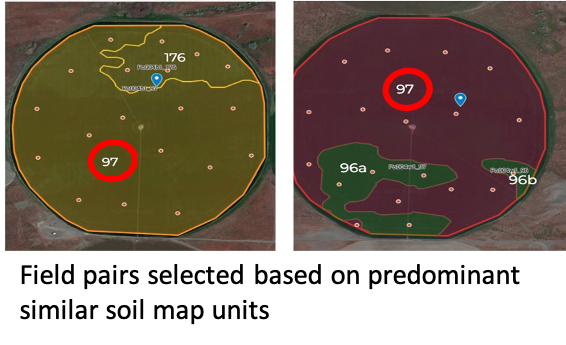 A section of the fields (~15 ha) was demarcated, and 5 sampling points were generated using the Greenback soil sampling protocol 2020 v2.3 web application.

10 probe samples (0 - 30 cm) were taken within 5 ft of each sampling point and composited.

Rhizosphere (potatoes only) and bulk density samples were taken at 3 of the 5 sampling points.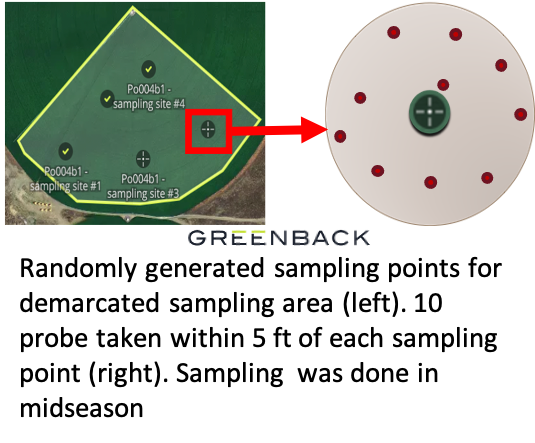 At the end of the growing season, growers were interviewed to get their fields' farm management data.
MEASUREMENTS
Soil physical, chemical, and biological properties representing key soil health indicators were analyzed. Highlighted properties have been analyzed.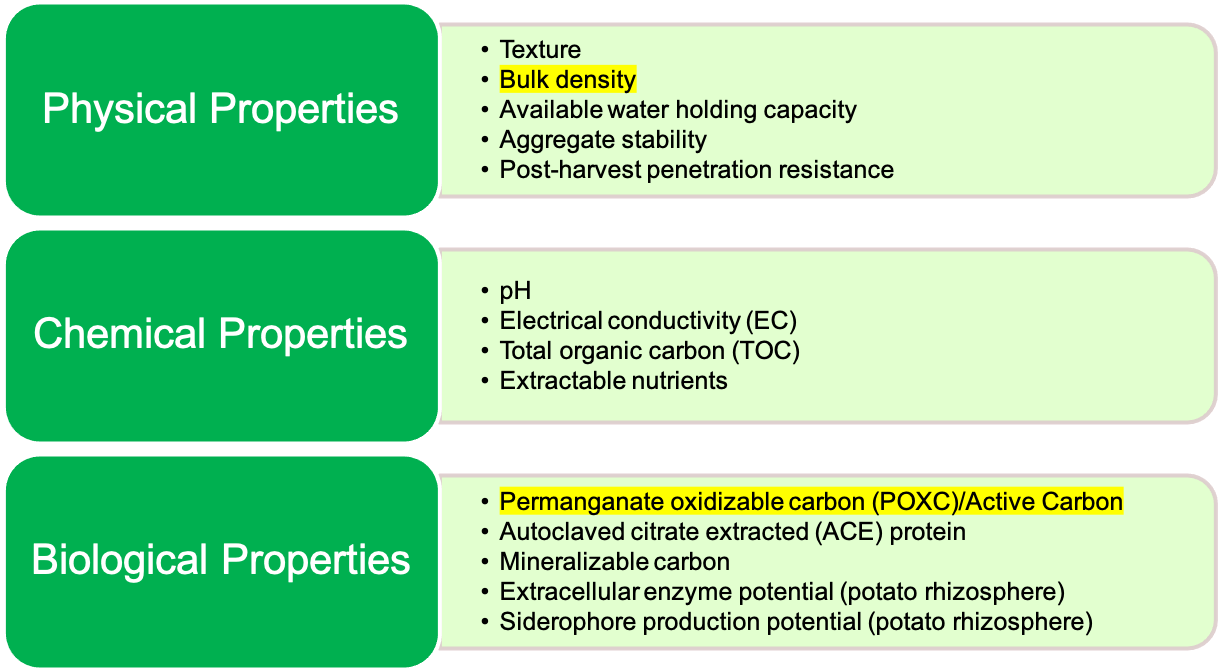 5) DISCUSSION
There were no significant differences in mean parasitic and beneficial nematodes and mean POXC values between farmer-determined good and challenging fields.

Mean bulk densities of challenging onion fields were significantly higher than good fields (p = 0.03365).

Though not statistically significant, the mean bulk densities of good sweet corn fields were 10% higher than challenging ones.

The developed scoring curve gave the sampled soils higher ratings than the Cornell Framework.
6) NEXT STEPS AND ACKNOWLEDGEMENT
NEXT STEPS
Addition of more sampling sites to include hops, pulses, and tree fruits.

Analyze farm management survey data

Finish analyzing remaining key soil health properties.

Conduct a spatial analysis to study changes in key soil health indicators over a growing season.
WSDA Specialty Crop Block Grant (SCBG) for funding

WSDA SCBG Project Advisory Group

Participating farms

Griffin and LaHue Research Team

Collaborators at Greenback, Inc
Moebius-Clune, B. N. (2016).

Comprehensive assessment of soil health: The Cornell framework manual

. Cornell University.